The Importance of Kangaroo in Aboriginal Art
Art is an extension of one's being. It is an expression of who you are and reflects upon a person's thoughts, values, and beliefs. Adding art to a space can revamp and add a whole new dimension to its being. If uniqueness is the objective, then aboriginal art is the solution. It's a perfect blend of the contemporary and the modern. Aboriginal backgrounds are a great way to add a touch of persona, culture, and ethnicity to any matter. Having originated in Australia, Aboriginal art has become immensely popular across the world in recent times. Most commonly seen in the form of mandalas and dot patterns. Adding aboriginal design to a design will not only add elegance, but it will also make the artwork unique.
An aboriginal design is essentially a combination of dots and symbols that was used by the Aborigines of Australia to write stories of cultural importance and pass it from one generation to the next. Animals and birds hold great significance in aboriginal art. They feature on most aboriginal artwork. One animal symbol that features often in the aboriginal background design is that of a kangaroo. The kangaroo has been of a great cultural and spiritual significance to the aboriginal people of Australia. It also features in their folklores and Dreamtime stories and therefore holds immense importance. They are seen very often in aboriginal designs as a part of a dream story or a hunting story.
The kangaroo was not only hunted by the aborigines for its meat and skin, but every part of the animal was used by them in one way or the other to produce tools, pouches and water containers and hence he kangaroo is featured either as a complete being or their tracks and hoof marks are illustrated in the designs.
Here are some aboriginal backgrounds that feature the kangaroo in different ways:
Hunting scene
An Aboriginal background design of a hunting scene featuring the kangaroos being hunted by the Aboriginals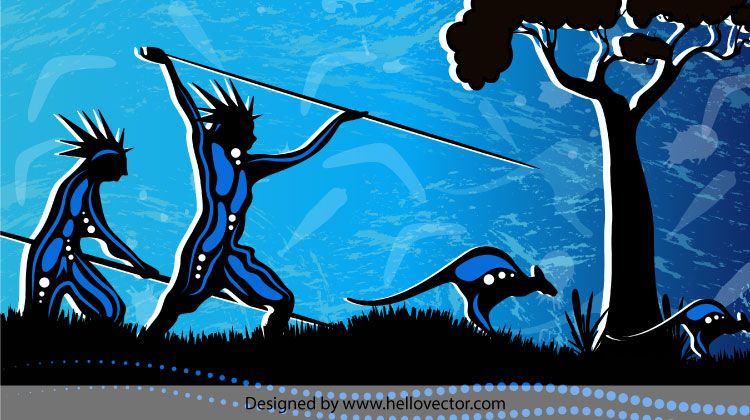 X-ray painting
An aboriginal design featuring the kangaroo in its skeletal form. The dots inside the kangaroo figure indicate its internal organs. The style is also called x-ray painting.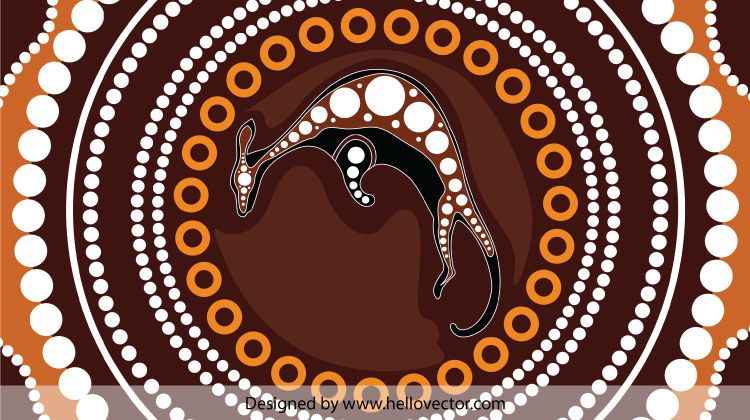 Track marks
An aboriginal design background featuring the track marks of kangaroos.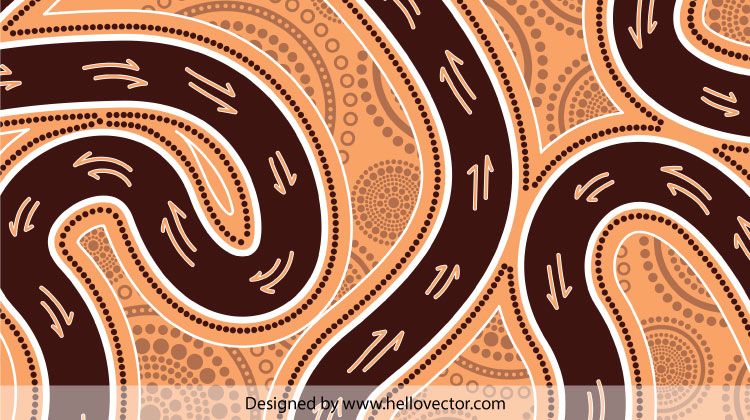 Natural surroundings
An aboriginal design background presenting the natural surroundings of the aborigines like rivers, trees, kangaroos.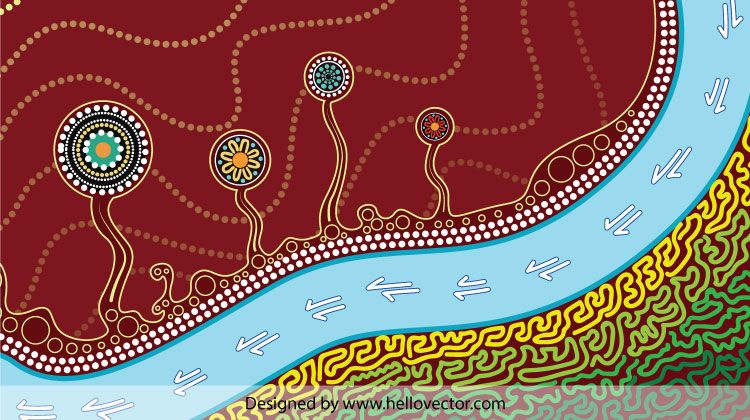 Today this artwork can be seen across a wide variety of categories like furniture, home décor, stationery, fashion and apparels. These patterns are extremely versatile and can be applied in any artwork or space, whether big or small. From simple design projects to more complex and intricate work, these patterns work successfully across all mediums like walls, wood, glass, metal, clay, textile, and much more. These designs are vibrant, elegant, abstract, and use vivid and eccentric colour combinations. Adding aboriginal background as an element to a project can increase its authenticity and artistic value many folds. And not just that, the blend of colours, the warm and earthy tones, the geometry of dots and symbols make this art aesthetically pleasing and soothing to the eye.
At Hello Vector, you will find a vast library of beautiful and vibrant aboriginal designs featuring the kangaroo, which can use to make any work a piece of art.